How it all started
A platform to gather research outputs and outcomes to help evaluate the impact of research
In 2008 Researchfish began as a project by the Medical Research Council to assist with data gathering, research tracking and measurement of grant impact. This new service was based on a common question set designed to capture all possible outputs from funded research. By 2014 all seven research councils in the UK had adopted Researchfish making the outcome types multidisciplinary, and since then many other research funders worldwide have also chosen the technology to help manage and understand the research funded by their grants.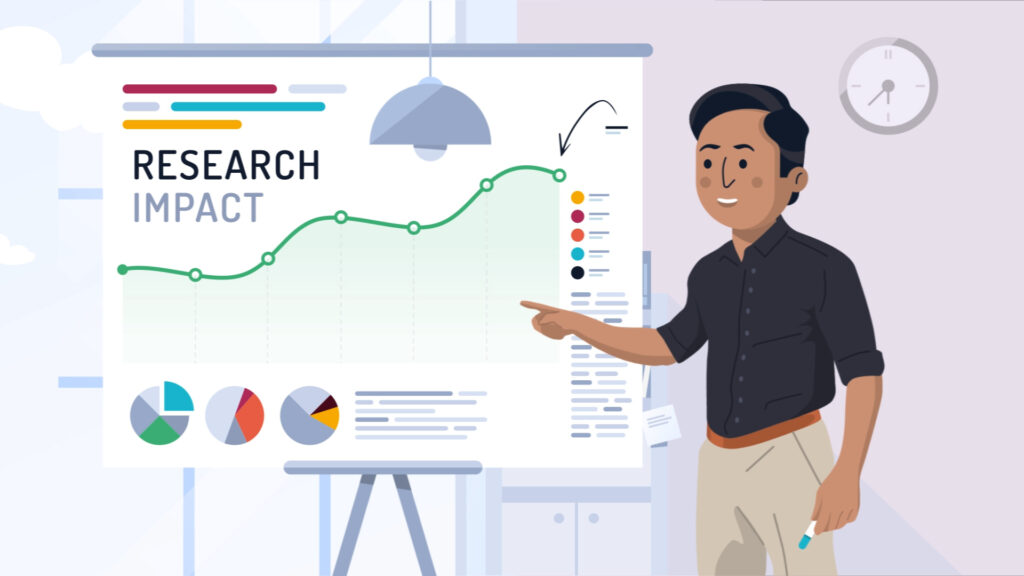 ---
Data, data and more data
Researchfish currently tracks over £60bn of grant funding and more than 130,000 grants. These grants have resulted in over 4 million output and outcome records.
Until recently researchers were still providing information about their funded research through end of grant reports (some still are!). Every report was created separately, for every single grant, for every single funder and then returned to the funders for evaluation in a variety of formats. Funders were then expected to synthesise information from distinct sources, provided in different formats, from different researchers and make strategic decisions. This approach was time-consuming, laborious and could easily lead to the omission of important information.

Throughout Researchfish's lifetime the research landscape has been continuously evolving. Researchers contribute to multiple projects and programmes and collaborate across publications, datasets, and products. The data landscape linking researchers, research organisations and funders is increasingly complex.

To facilitate the capture and analyses of all of this information, data scientists and developers at Researchfish have been working hard to improve data harvesting (through integrations with third party data sources) and cleansing to reduce the amount of manual input required from researchers when updating their yearly submissions. As a result of this, by 2022 44% of the publications associated with annual submissions were harvested. Analysts are continuously investigating third party data sources such as funding databases and data repositories to increase interoperability and make the submission process easier, less time consuming and less prone to human error.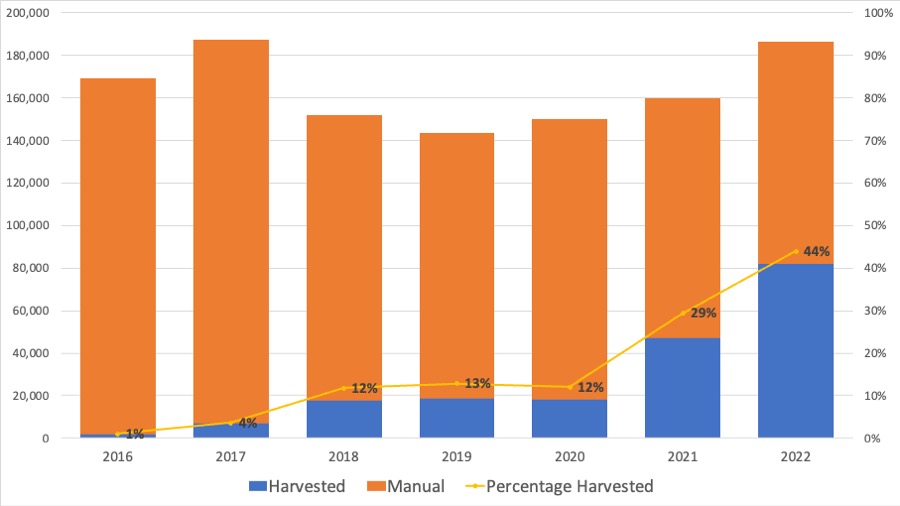 ---
Interoperability between systems remains central to the developmental aims for the researchfish platform including integrating with data in CRIS (Current Research Information Systems), using persistent IDs (eg. CrossRef, PubMed, Datacite). Currently more than 17,000 external data sources are used to supplement and enrich data on the platform.

However, it is not just the interoperability capabilities and data that supports the platform which needs to be fit for the future: the user interface is integral to providing researchers and funders with a tool that can help manage research outputs and outcomes and ultimately understand impact.

Creating a user interface that is ready and adaptable to support the future of research
The researchfish user base now spans over 110,000 active users at over 200 organisations worldwide and the research that they design and execute makes an important contribution across multiple disciplines.

Web design guidelines have evolved considerably over the last few years. Accessibility and usability are integral to the value and therefore adoption of any technology and Researchfish is no exception. Interfolio (of which Researchfish is a part) has been working to update the design framework for its whole suite of products and services. Researchfish has, therefore, been making some important changes, including the adoption of this new design framework, to bring the platform forward in terms of accessibility and usability.

What changes will Researchfish platform users notice?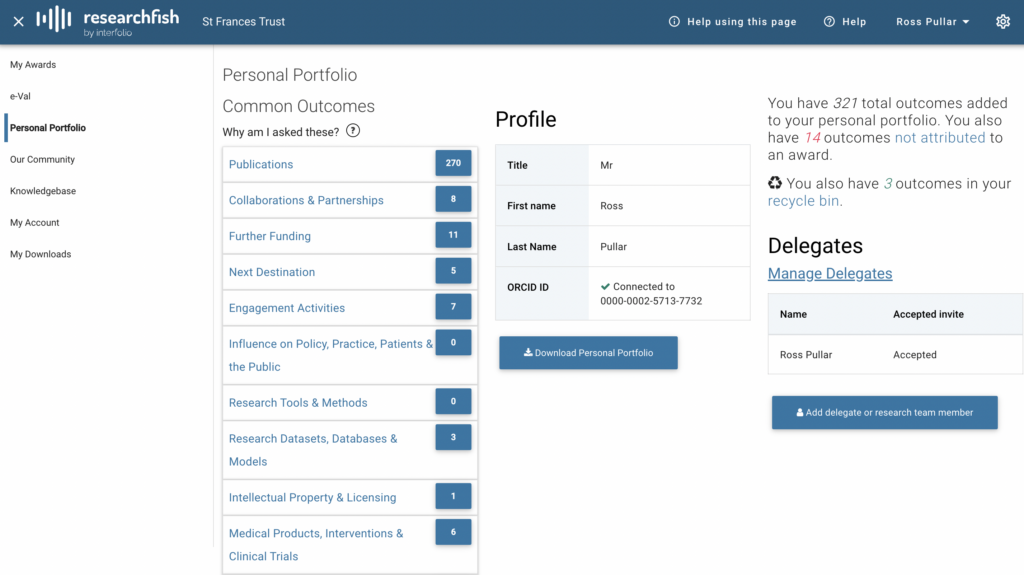 ---
The original platform user interface was run through several accessibility tools, such as axe (which is a digital accessibility toolkit used by development and testing teams worldwide) to identify the most important areas to improve and to drive prioritisation of the work to be done.

The most obvious change to the platform is in the layout of the page. The whole screen width is now usable rather than content constrained to the middle section of the window. This improved layout provides a clearer overall view with more straightforward and logical navigation options. The menu is positioned to the side with all options relevant to the user's role directly accessible from the same place. The colours and fonts are chosen to adhere to the design framework and accessibility guidelines.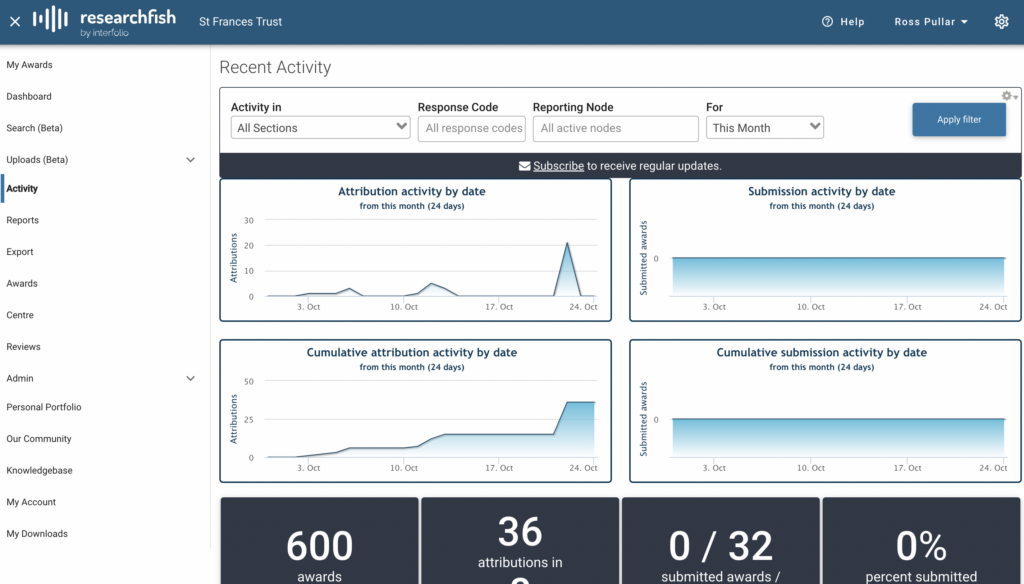 ---
While we are pleased with the improvements that have been made, there is always more work to be done and the updates will not stop here. The updates made in this product release are in accordance with WCAG 2.1 guidelines with an expected AA level of conformance. Interfolio UK wants as many people as possible to be able to use the platform. We are continually improving the user experience for everyone, and applying the relevant accessibility standards.
The current conformance status and further information can be viewed on the Researchfish Accessibility Statement

What improvements have been made?
Improved user experience with clear, easy to read pages
Greater accessibility for all users, especially those using screen readers and other accessibility devices.
Clearer navigation to make submission and retrieval of data as intuitive as possible
Reduction in the amount of manual input required by harvesting from third party data sources where possible
Improved data cleanliness
What about data and functionality?
These updates will not change any of the platform's functionality. All of the data is still there. The changes are only in the user interface and, if regular users have bookmarked any pages of the platform, these URLs will remain the same.

The Researchfish Client Team will be running webinars to introduce customers and users to the new interface over the coming months. Customers should keep an eye on their inboxes for further information or contact the Client Team directly to learn more.

When does this update take place?
Phase 1 is now live. Users will log in to the older environment but can choose to try the new version (or remain with the older version).
Phase 2. The default interface will be the new interface (but with the option of users using the old version).
Phase 3. The old user interface will be retired.
What's next?
These accessibility and user experience updates are just the beginning and will give us more scope to improve the platform in the future.

As we continue along the product development pathway we are keen to have greater engagement with principal investigators to understand how they use the platform, where it is problematic and how we can evolve the product to provide more value to them. We are investing in research to better understand the researcher experience. If you are a PI who would be interested in providing input please contact us at ux@interfolio.com